Whiplash
Even a minor fender bender can produce a whiplash injury. It may take a day or two, or sometimes months for symptoms to appear.
Are you experiencing whiplash?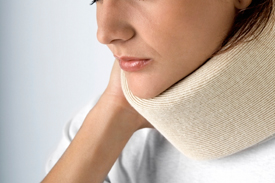 Don't settle your case without answering these questions:
Do you feel sore in all of your muscles?
Do you have neck and shoulder pain?
Do you feel exhausted or "stressed out?"
Do you experience back pain?
Do you have knee, leg or hip pain?
Do you get headaches for no apparent reason?
Are you more tired than you should be?
Do you ever get pain or numbness in your arms or legs?
If you answered YES to two or more questions, you may be suffering from whiplash.
Specific chiropractic spinal adjustments can help promote proper healing by restoring proper motion and position of individual spinal bones. Let Asheville Pain and Wellness Center help you prevent any possible complications.
Dr. Terri is your "Asheville whiplash chiropractor". If you have been in an auto accident, call us at 258-BACK(2225) or click here to make an appointment online.
---
Whiplash Treatment Asheville, West Asheville NC | (828) 258-2225