Asheville Chiropractor Leads You to Health
Safe, Natural Healing for All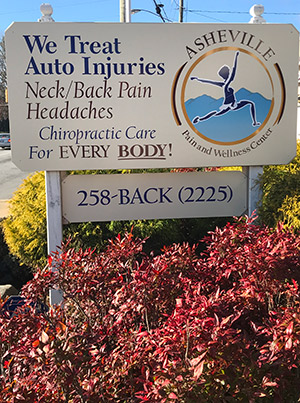 We believe that a healthier you makes for a healthier planet. That means we strive to help people achieve a pain-free life without the use of medication so our chiropractic patients can be part of that healthier planet! We also recognize that people today need a true wellness leader in their life.
Dr. Terri Lechner chiropractic physician, has been practicing in Asheville for over 13 years. Dr. Terri helps to coach each of her patients to make healthier life long changes to impact their quality of life. People may come to our office because they've been injured in a car accident, suffer with neck pain, back pain or headaches, but they stay in our office because of the general overall improvements in their health, their wellness, and their overall quality of life.
If you've been involved in an auto accident please take this quick questionnaire to discover if chiropractic can help you with your pain. If the accident was not your fault, there will be no out-of-pocket expenses for your care at Asheville Pain and Wellness Center.
Drug Free Care is our Goal
We want to reduce our patients' dependence on over-the-counter and prescription medications, because the side effects of the drugs are detrimental to both you and to our planet! We can help you achieve a higher quality of life without relying on medication.
We want to help you lead a pain-free, drug-free life.
Contact us to get started!
Dr. Terri Lechner | (828) 258-2225
Cancellations:
As a courtesy, you will receive a confirmation of your appointment prior to your arrival. Should the need arise to cancel or reschedule appointments, a 24 hour advance notice is required.
Any cancellation made the "day of" will be assessed a charge of 50% of the new patient charges. However, if you forget to come ("no show"), a charge for 100% of the scheduled service will be due.